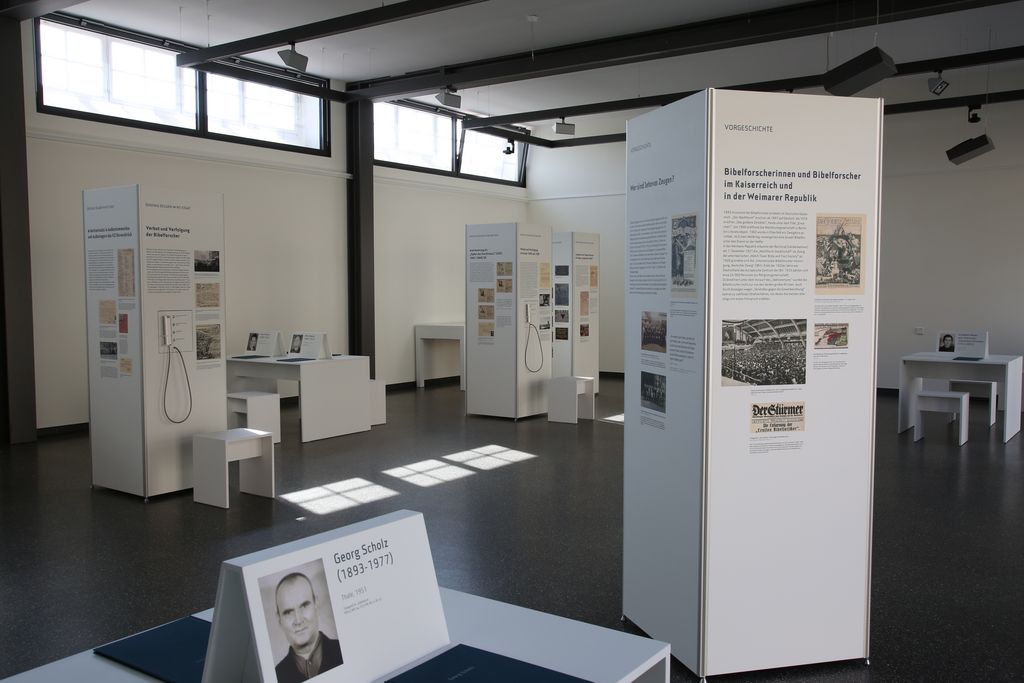 Banned and Persecuted: Jehovah's Witnesses at Ravensbrück Concentration Camp and in East Germany's Prisons
This exhibition delves into the situation of the Jehovah's Witnesses, who were imprisoned in the Nazi state, including at Ravensbrück Concentration Camp, and later also persecuted in East Germany. Heeding the words of the prophet Daniel (Daniel 3:17 et seq.), the Jehovah's Witnesses did not try to escape imprisonment. They took it as a test of Jehovah's will, and so the SS trusted them to work without guards in SS and private households, as well as on agricultural estates. As early as the 1920s, the Jehovah's Witnesses were vilified by ethnonationalist and Nazi detractors as 'Jewish Bolsheviks', 'traitors', and 'communists'. In East Germany, they were accused of cosmopolitanism, 'boycott extremism', and 'espionage for the West'. Because the Jehovah's Witnesses refused military and civilian service obligations due to their belief in strict political neutrality, many were tried and convicted in both East and West Germany.
In four chapters spread across sixteen panels, the exhibition looks at the Jehovah's Witnesses and their persecution, before continuing on to the issue of reparations and today's ways of commemorating their victims. The public can also visit tables that provide a closer look at the fate of six female and six male Jehovah's Witnesses through additional documents and photos. The exhibition's curators are Falk Bersch and Christl Wickert. The project was realised with financial support from Germany's Federal Foundation for the Reappraisal of the SED Dictatorship and Brandenburg State's Commissioner for Dealing with the Consequences of the Communist Dictatorship.
An exhibition by the Ravensbrück Memorial Museum in collaboration with Brandenburg State's Commissioner for Dealing with the Consequences of the Communist Dictatorship (LAkD)